Lumerical's design tools accurately simulate photonic components, circuits and systems
SYSTEM Suite for Photonic Integrated Circuit Simulation

INTERCONNECT Photonic Integrated Circuit Simulator
CML Compiler Photonic Model Development Kit
CML Publisher+ CML License Protection Option
Laser Library Advanced Laser Modeling Extension
System Library Advanced System Modeling Extension
Photonic Verilog-A Platform Runtime Library and Utilities for PIC Simulation

Interoperability Products

Automation API
    Python
    Lumerical Script
Tool Integrations
    IPKISS Interoperability
    KLayout Interoperability
    Matlab Interoperability
    Tanner Interoperability
    Virtuoso ADE Interoperability
    Zemax Interoperability
Foundry Support
    AIM Photonics Si-Ph Reader
    AMF Reader
    CompoundTek Reader
    HHI Reader
    imec Reader
    SMART Reader
    TowerJazz Reader

DEVICE Suite for Photonic Multiphysics Simulation

FDTD 3D Electromagnetic Simulator
MODE Waveguide Simulator
CHARGE 3D Charge Transport Simulator
HEAT 3D Heat Transport Simulator
DGTD 3D Electromagnetic Simulator
FEEM Waveguide Simulator
STACK Optical Multilayer Simulator


Lumerical's DEVICE Suite, SYSTEM Suite, and Interoperability work together seamlessly allowing designers to model the most challenging problems in photonics that include interacting optical, electrical, and thermal effects. Flexible interoperability between suites enables a variety of workflows that combine component-level multiphysics and system-level circuit simulation with third-party design automation and productivity tools. Interoperability further provides Python-based automation support via the Automation API and compact-library support for the industry's leading photonics foundries.
DEVICE Suite | SYSTEM Suite | Interoperability Products
DEVICE Multiphysics Simulation Suite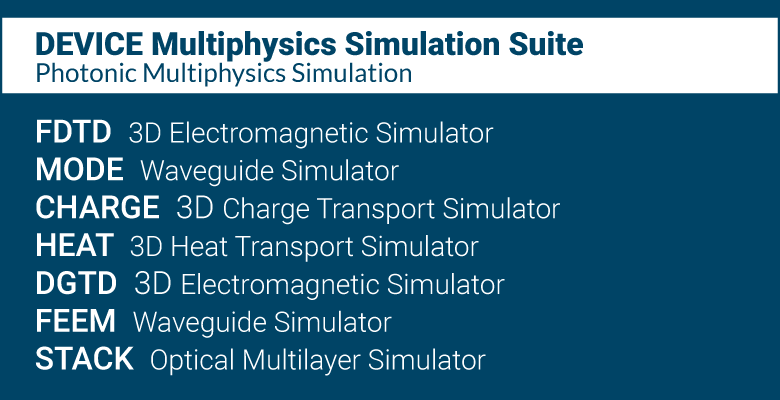 Lumerical's component design products use multiphysics-style simulation capabilities and workflows to model optical, electrical and thermal effects at the physical level. Learn about the capabilities of each tool:
FDTD | MODE | CHARGE | HEAT | DGTD | FEEM | STACK
SYSTEM Circuit Simulation Suite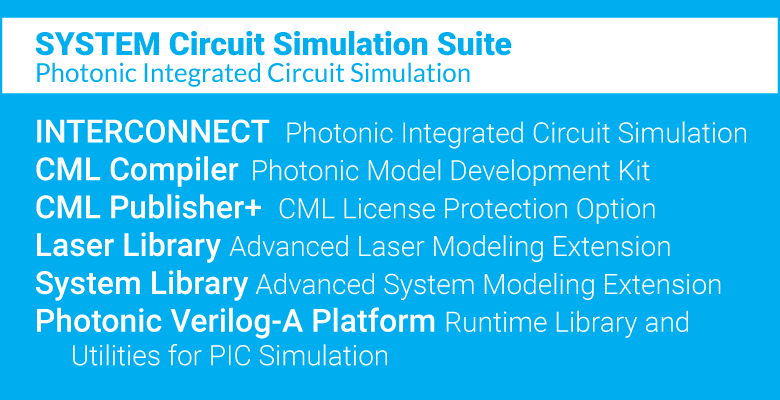 Lumerical's system-level products includes all the tools needed to simulate photonics circuits and to generate compact libraries. INTERCONNECT simulates and optimizes the performance of photonic integrated circuits. In addition to an extensive list of pre-defined elements offered by INTERCONNECT, additional elements are available with the System Element Library and the Laser Element Library. CML Compiler automates the creation, maintenance and QA testing of INTERCONNECT and Verilog-A photonic compact libraries (CMLs).  CML encryption is available via the CML Publisher+ add-on.
Interoperability Products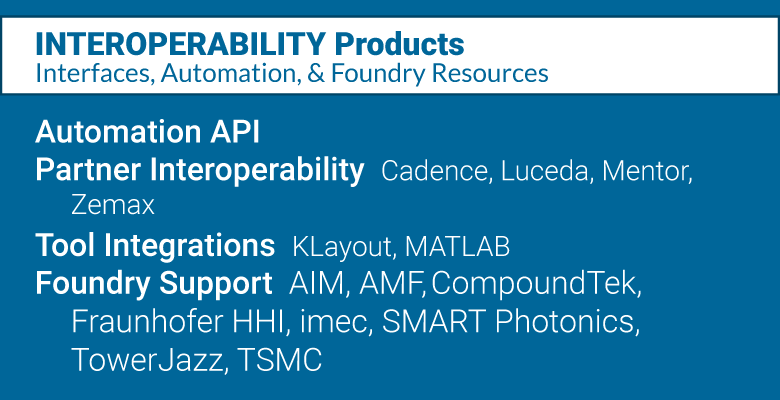 Lumerical products have been designed to work in conjunction with popular electronic design automation (EDA) tools. In addition, a number of foundry compact model libraries (CMLs) are available for INTERCONNECT that are calibrated against the manufacturing process offered by several semiconductor foundries. The Automation API offers Python-driven interoperability enabling Lumerical tools to interact with third-party applications and a rich set of open-source content such as the Adjoint Method for Inverse Design.
Automation API | Partner Interoperability | Tool Integrations | Foundry Support
Need help with your Lumerical products?
Our product experts and support specialists make us the preferred full service R&D solution partner in the industry.

Visit our Support page